Hair styles: Hairstyles For Men
Are buzz cuts in style?
The Buzz Crew
Continuing on from one of the biggest trends of the end of the Summer, the buzz crew will continue to be a popular style for men looking for a shorter trim.
It's slightly longer than a buzz cut and slightly shorter than a crew cut. You can keep the sides as short as you like, and keep the top to just about comb to finger length with added texture to give it a messy "grown out buzz" look. This haircut is not meant to look perfect and likely won't be heavily shaped up, meaning you'll get more longevity as the hair grows out.
The best thing about this style though? It needs no real styling at all. It's just short enough that you should be able to get out of bed with the hair exactly where it needs to be. If you do feel the need for styling as it grows out on top then use a really tiny bit of a matte finish product like the Regal Gentleman Matte Clay for a natural look.
(Credit top left to bottom right: Pinterest, @nickbarford, @domthebarberian, @benvowles)
Curly / Wavy Faded Undercut
This could be our favourite haircut trend! And is one for the wavy and curly haired gents, who often don't get much attention when it comes to haircut trends.
But to rock this style, wear the curls on top natural and slightly pushed down as a fringe. Then take the sides shorter (often taken down to a skin fade, but doesn't have to be). The sides should be worn in an undercut but not dramatic like a Brad Pitt Fury style undercut, it should still be faded up to a point and left with a very slight disconnection.
To style use a pre-styler like the Regal Gentleman Salt Spray for added texture and then finish with a leave in conditioner or curl enhancer to give your curls the moisture they need to avoid frizzing.
(Credit top left to bottom right: @hayden_cassidy, @bentham_barbers, @handsome_._ransom, @cutsandbruisesbarbershop)
Natural Top With Low Fade On Sides
This haircut is all about letting the top of the hair do what it naturally wants to do. To achieve this style wear the top with a messy, natural texture.
Then you want to take the sides down shorter with a low or mid fade, that brings an element of style with the messier top. You don't want anything too high with the fade, to keep a natural softer look.
Don't over style this haircut, just use a tiny bit of a product like the Regal Gentleman Matte Clay or paste to add texture and hold. To achieve the more natural look, you want something that has no shine and is reworkable.
(Credit top left to bottom right: @domthebarberian, @nickbarford, @domthebarberian, @nomadbarberbln)
The Messy Pompadour
Right out of the bedhead era, the punk rock'esque style of the messy pompadour is rising in popularity again.
To rock this style, take the sides down short with around a 2-3 on the back and sides, or even scissor cut for a more personalized finish.
But, the main part of this haircut is the top. You want this to be left slightly longer around 3-4 inches minimum with heavy texture throughout (especially in the fringe) to give the messier appearance.
To style use a tiny bit of a low shine product like the Regal Gentleman Texture Paste. And then you can finish with a tiny bit of hairspray if you want some added hold. You want the hair to not be completely matte and have some grit and texture to it.
(Credit top left to bottom right: Pinterest, @andrewdoeshair, @mattyconrad, @charlie_cullen)
The Textured Fringe
In the last year or two, the fringe has often been worn blunted or heavily cut in to, but now the fringe is back in it's more natural swept across variation.
Especially with Tommy Shelby and Peaky Blinders returning to our screens this year, expect to see a lot more fringes worn textured and pushed down.
Pair the textured fringe with a low to mid fade on the back and sides for something softer and less harsh. To style use a pre-styler like the Regal Gentleman Salt Spray in damp hair, blow dry through and then finish with a tiny bit of matte finish product like the Regal Gentleman Matte Clay.
(Credit top left to bottom right: @ruffians, @collinanthonyhair, @toastiestyles, Pinterest)
Soft Side Parting
The side parting is never out of fashion, and is a classic style that most men have experimented with at some point.
After being paired with a lot of high skin fades and hard parts for a while, expect the side parting to return back to the classic shape of the 30s and 40s, but without the high shine finish.
Keep the sides longer with around a number 1-3 on the back and sides, or even scissor cut, and then leave more length in the fringe; getting shorter towards the crown. Have texture added to the hair for a more natural, less slicked finish that's easier to style and will require less maintenance. The parting won't be as clearly defined as it has been, and will just be a slight part at the natural part point of the hair.
Use a paste, like the Regal Gentleman Texture Paste (coming soon – get exclusive access now), that gives a low shine, but not a high shine finish like you'd expect with pomades. The hair doesn't have to be slicked and precise, and can be worn slightly messier. You want to still keep this haircut looking very natural, and using the natural texture of the hair.
(Credit top left to bottom right: @ruffians, Pinterest, @ruffians, Pinterest)
High and Tight Textured Crew Cut
Not too far off the "buzz crew", but the main difference being slightly more length on top, giving you that little extra to play with.
The sides will be taken ultra high & tight just like the styles Military brother, and will often be paired with a skin or zero fade. The top will be heavily textured, making the hair much easier to style in the morning.
To style use a tiny bit of a matte finish product like the Regal Gentleman Matte Clay. You want to keep this looking natural on top, for an almost unstyled look.
(Credit top left to bottom right: @barbersno1, @tuckercuts, @lukedbeaumont, @cutsandbruisesbarbershop)
Medium Length Classic Scissor Cut
With the two extremes of shorter and longer styles being popular over the past few years, and although never out of style, the classic medium length scissor cut has taken a slight step back in the minds of a lot of gents. But now medium length cuts are making a rapid comeback!
There will be no short tight fades on the back and sides with this one, and will be worn scissor cut all over to give a more natural effect. This will be all about tailoring a haircut to your face shape.
To style use a pre-styler like the Regal Gentleman Salt Spray (coming soon) in damp hair, and then finish with a low shine product like the Regal Gentleman Paste (also coming soon) for added hold. You want this style to keep a natural classic look, that is still able to be pushed back throughout the day.
(Credit top left to bottom right: @carliefirth_, @mbthechair, @ruffians, @alan_beak)
What to Expect From Popular Men's Hairstyles?
Lower fades. Expect to see less high and harsh skin fades on the whole, and more low to mid softer fades.
More personalised haircuts. With barbers sharing more knowledge than ever before and gents starting to care more about who their barber is, expect to see a lot more personalised haircuts tailored to your hair, face shape and needs, rather than generic haircuts with a "one size fits all" approach.
Natural finishes. The trend for natural and messier finishes with an element of style versus slicked polished styles looks like it will continue for the near future, with more of us looking for something that's easy to style and doesn't look overly finished. That means more salt sprays, clays and pastes and less gels, waxes and high shine pomades for now.
Versatile styles. With a lot of us getting bored of styles quickly, expect to see styles that can be worn in more than one way, and, with an emphasis on how the style grows out, giving more variation to what we can do with our hair. As opposed to styles cut into one specific shape that can't be changed and need regular maintenance e.g. hard part side partings.
What is the best haircut for guys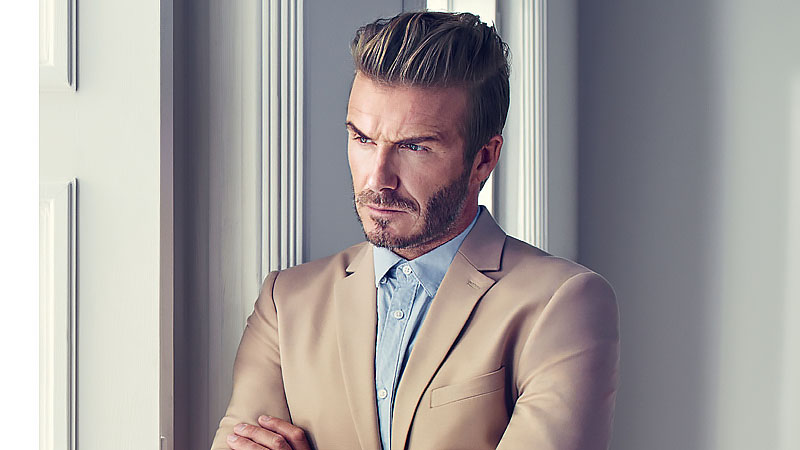 While often selected for its practicality and smart appearance, short hair needn't be the safe choice. In fact, a cropped cut makes an excellent option for fashion-forward gents who want to stand out while looking sleek. From sharp crew cuts to cool quiffs, today there is an abundance of on-trend and bold new looks. But, with so many choices, deciding which short-haired style to try can be challenging. Thankfully, we can help make your decision much easier with a selection of inspiring cropped cuts. Here is our roundup of the best men's short hairstyles and haircuts to try right now.
Short Hairstyles for Men
Short Blowout with Tapered Sides
While opting for a blowout haircut creates a style that appears relaxed and contemporary, partnering it with tapered sides keeps the overall look clean and sharp.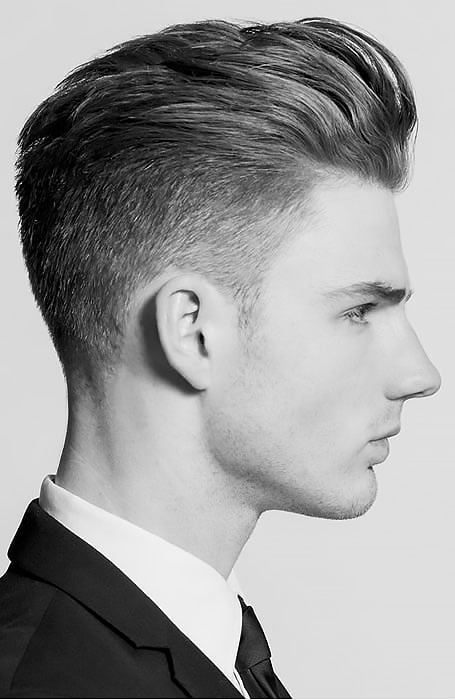 Buzz Cut with Shaved Design
If a standard buzz cut is a little too plain for your tastes, you should consider having a unique design shaved in.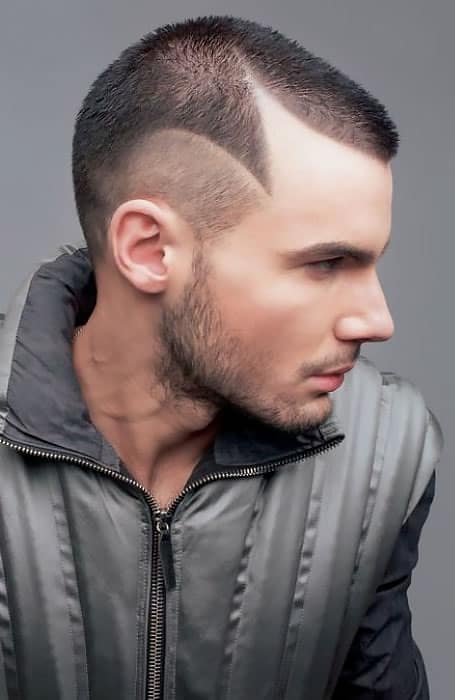 Classic Combed Back Style
By just combing back your short strands, you can create a style that appears classic, polished, and perfect for the office.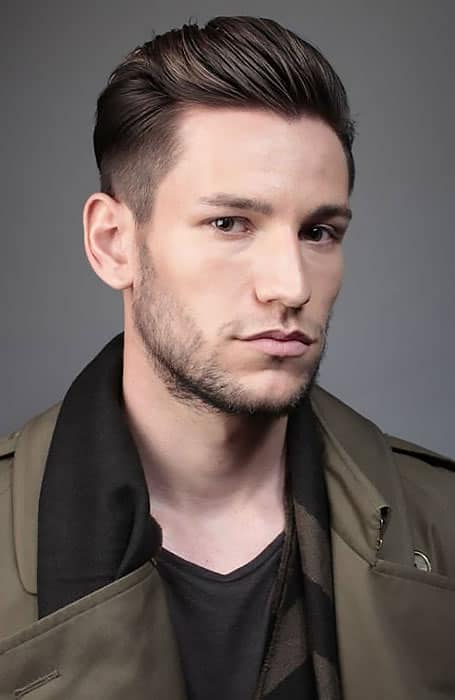 Classic Pompadour
The pompadour is one of the most popular hairstyles of the moment for stylish gents. Although the look may have been made famous for men in the 1950s, it still appears cool and contemporary.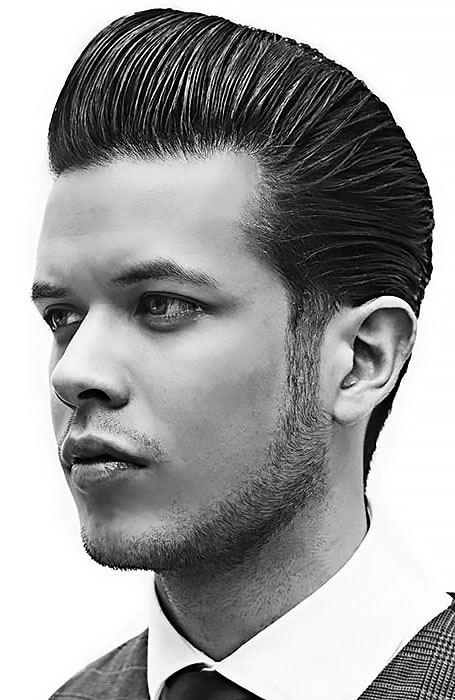 Short Comb-Over
The comb-over hairstyle has long been a top choice for gents thanks to its polished appearance. The look is especially ideal for men with fine hair who need a style to suit their thin locks.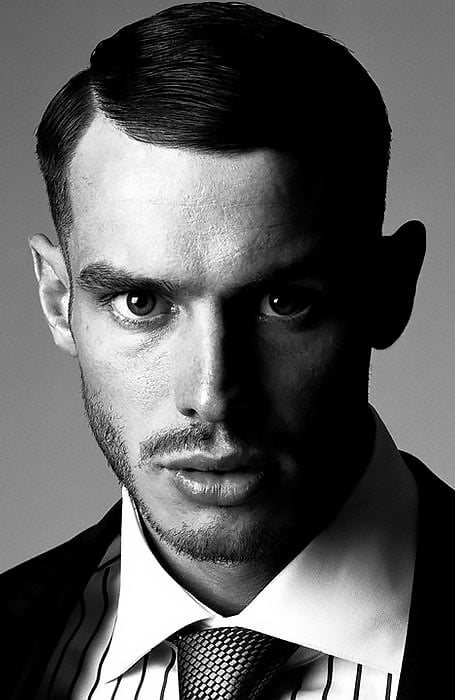 Crew Cut
When it comes to short haircuts that are both practical and stylish, nothing beats the crew cut.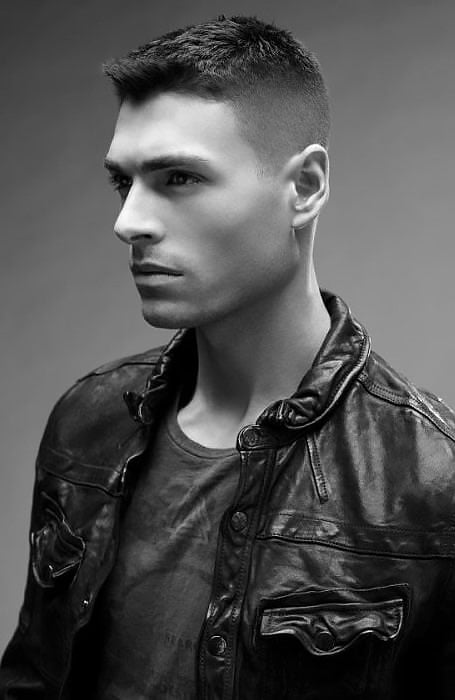 Short Curly Quiff
If your locks are curly, you should consider styling your strands into a quiff to show off your natural volume and texture.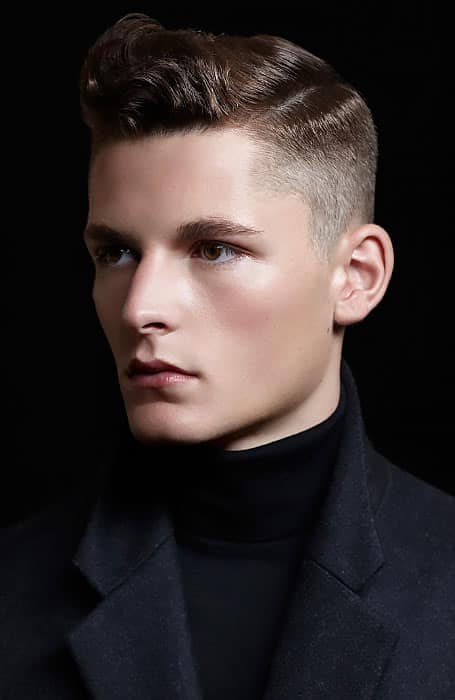 Short Disconnected Undercut
The disconnected undercut, which features short sides contrasted with a long top, is edgy, modern, and seriously stylish.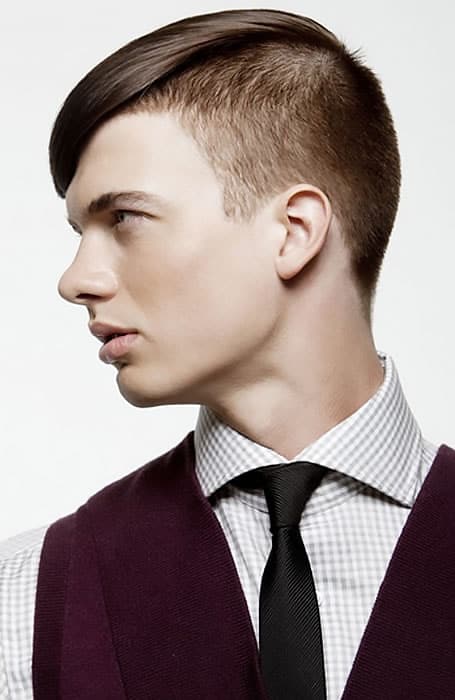 Fauxhawk
A fauxhawk haircut can project an edgy aesthetic without appearing as intense or severe as a traditional mohawk.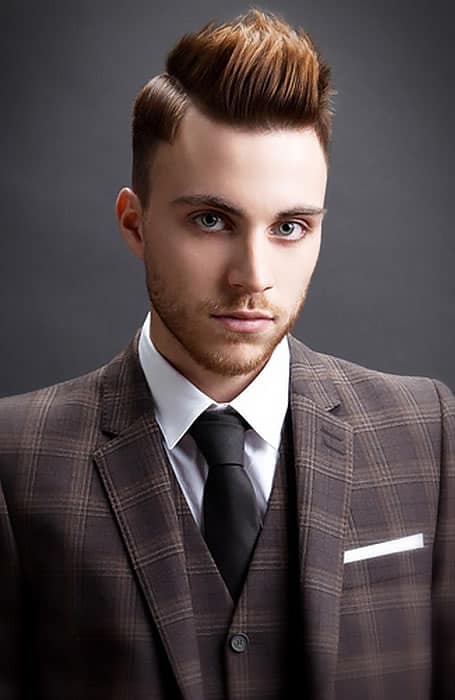 High and Tight with Side Part
The high and tight, which features barely-there sides and a slightly longer top, is a traditional military haircut and a variation on the collegiate crew cut.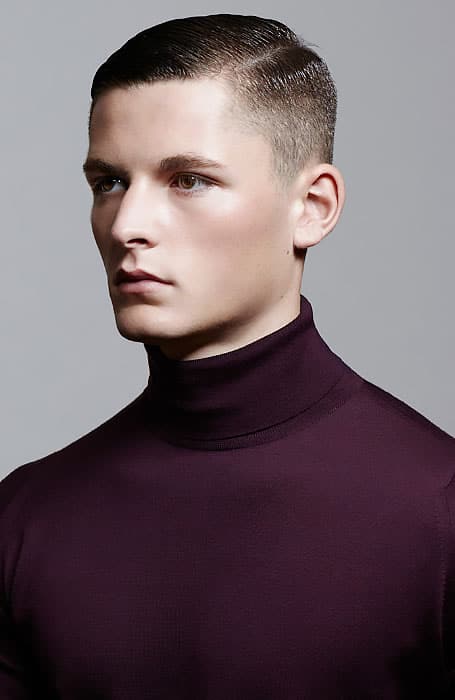 Low Taper Fade
A low fade haircut, which graduates from a longer length on top to reveal the skin near the ears, can be rocked in a high, medium or low style.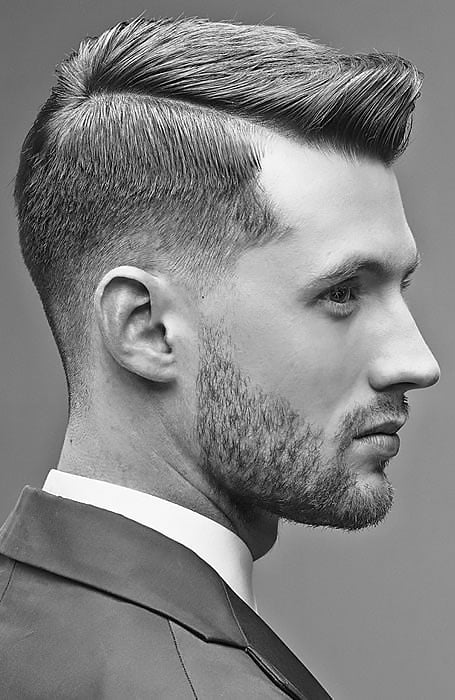 Messy French Crop
The French crop may be a classic men's hairstyle, but it can appear seriously modern and fresh when worn in a messy manner.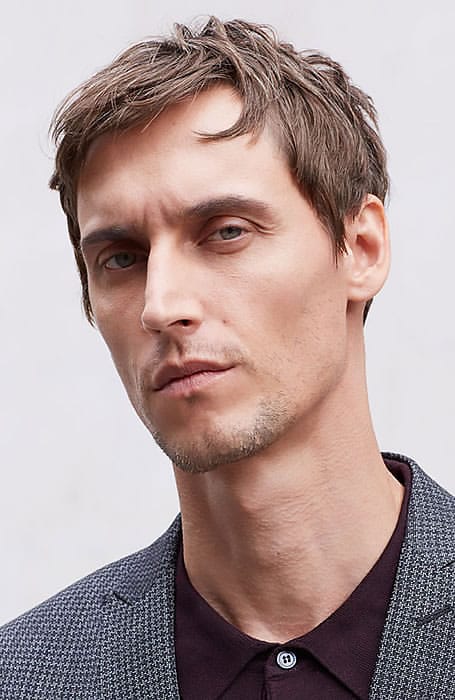 Short and Spiked
Short and spiked hair can appear youthful and edgy without looking dishevelled or juvenile.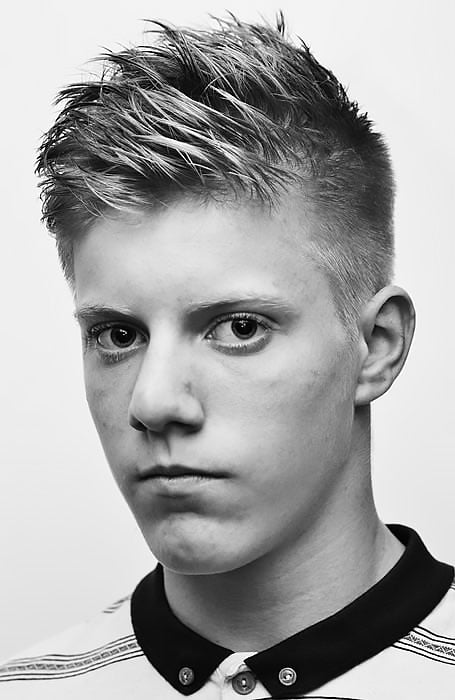 Short Side Part Style
Try styling your short haircut with a side part for a look that's handsome and refined.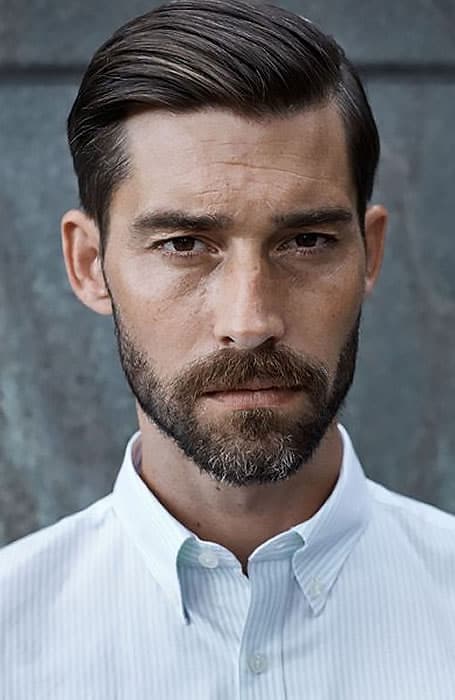 Short Style with Finger Waves
Add a touch of classic charm to your short hairstyle with the addition of finger waves at the front.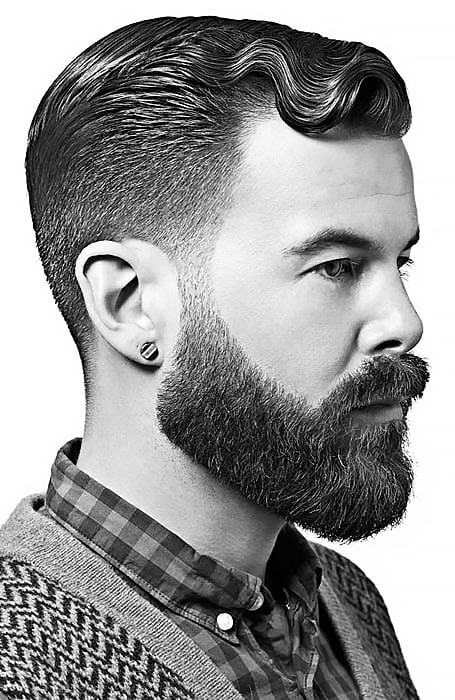 Short Style with Hard Part
Inject a bit of attitude into your short hairstyle by asking your barber to shave a hard part into your strands.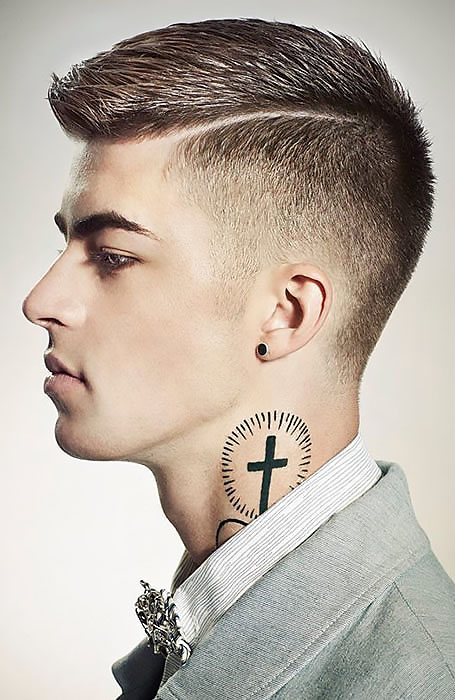 Side Part Style with Fade
Embrace a fade haircut with a side part style when you're after a look that's elegant, masculine, and timeless.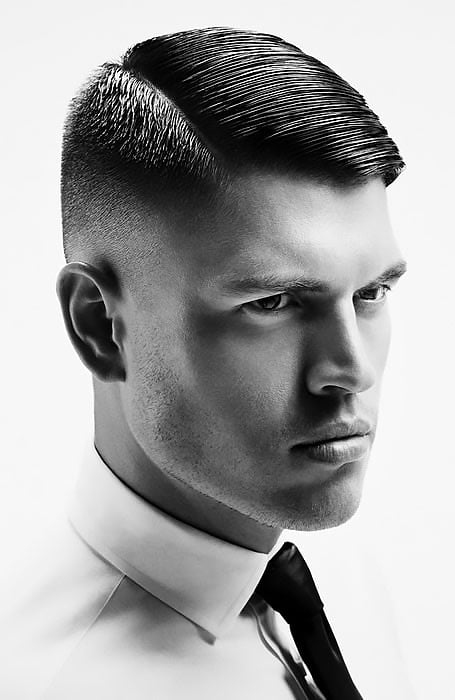 Silver Pompadour with Taper Fade
A pompadour with a taper fade can make a dapper grey hairstyle for distinguished gents.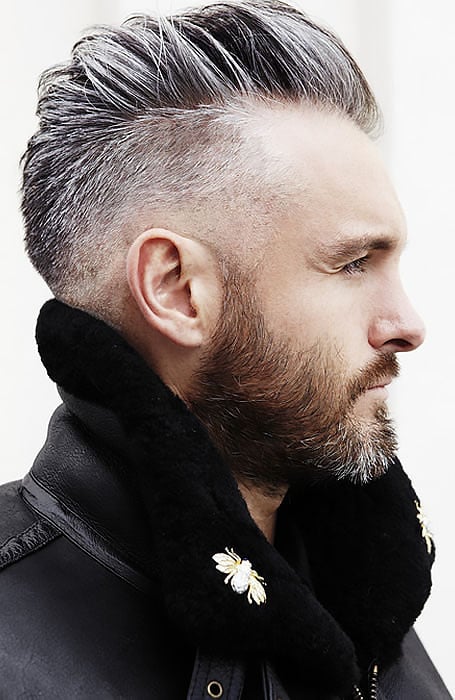 Slicked Back with a Side Part
If you're the kind of gent who enjoys wearing a suit and loves a classic look, then a slicked-back hairstyle with a side part is for you.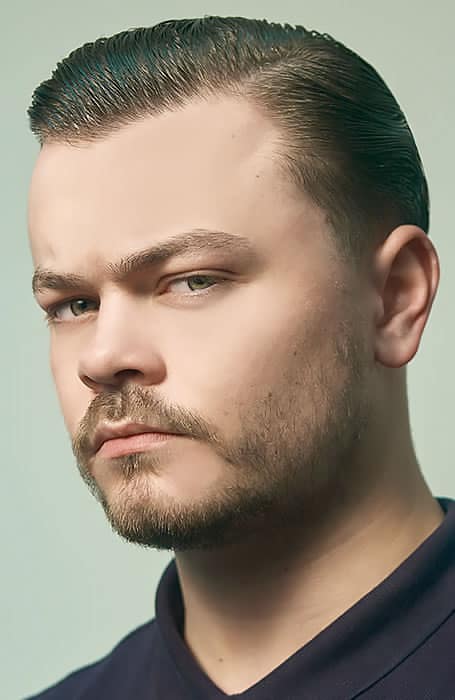 Spiked Side Part Style
While side part styles are typically combed flat and neat, spiking up the section on top can be a unique and cool alternative.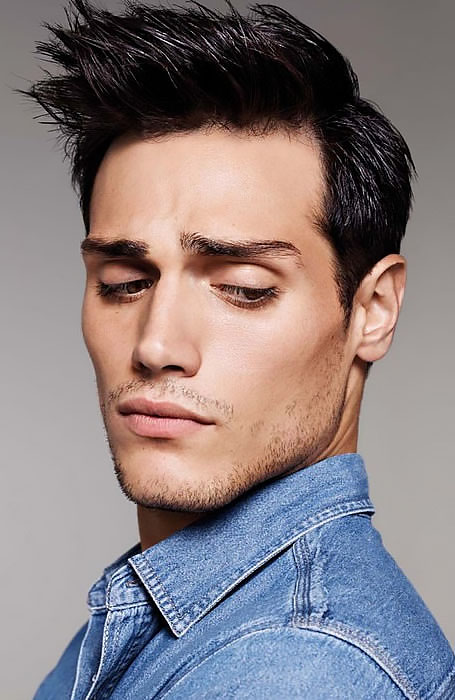 Structured Quiff
While it may take a little practice to get right, a structured quiff can make an excellent, eye-catching style for daring gents.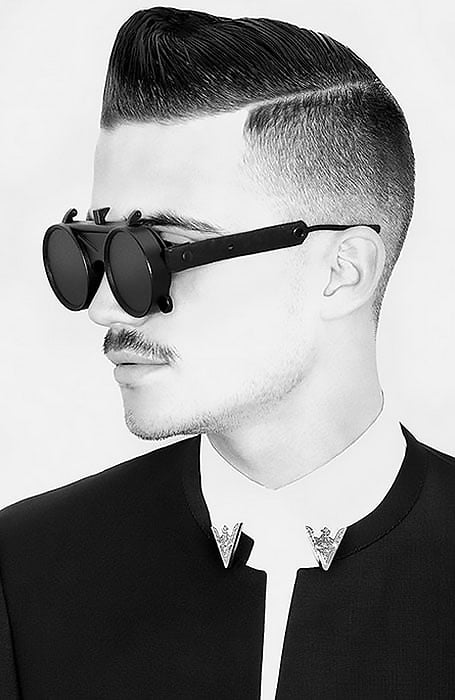 Taper Fade Pompadour
If you have broad facial features, you should try rocking a taper fade pompadour for a look that's both stylish and balancing.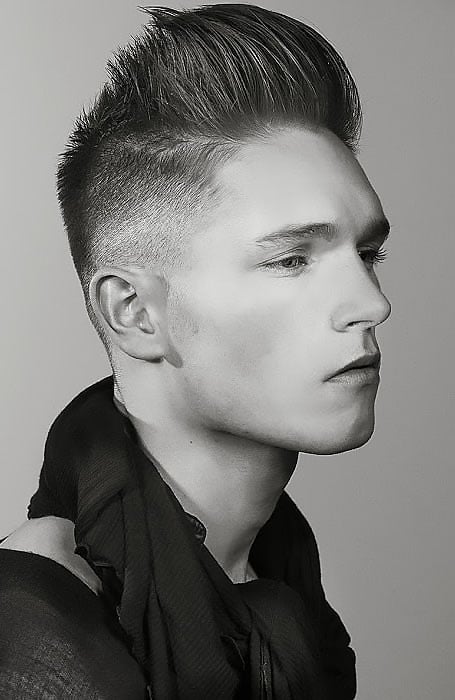 Textured Crop
Nothing makes a cropped cut feel more modern than the addition of texture.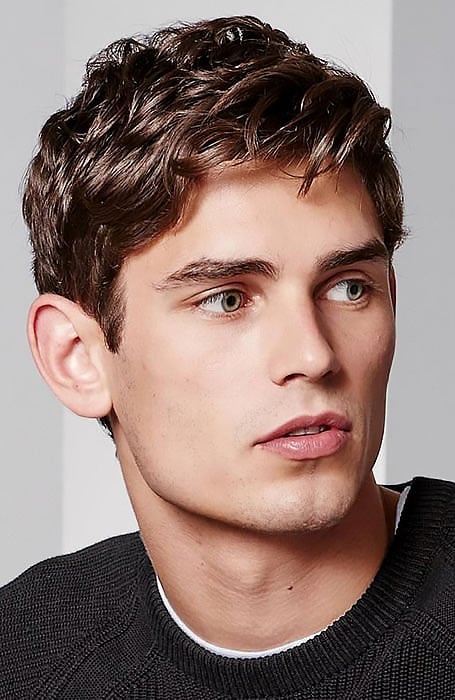 Textured Quiff
Don't be afraid to add some texture to your quiff for a look that's equal parts classic and modern.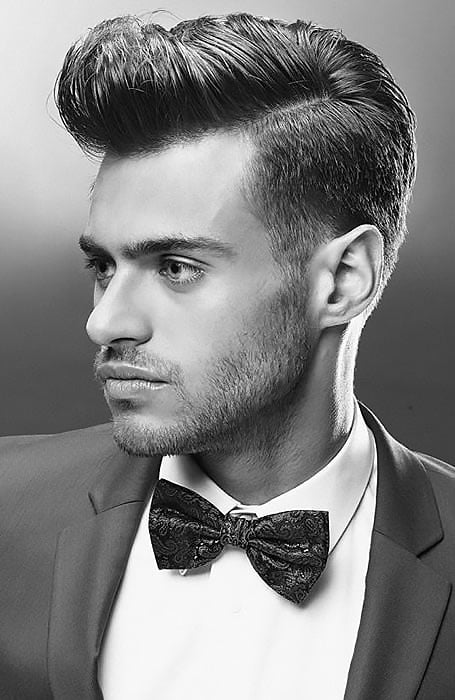 Undercut Style
An undercut is one of the most popular hairstyles for gents today. Thanks to its long length on top, the cut is also versatile and can be styled into anything from a pompadour to slicked-back look.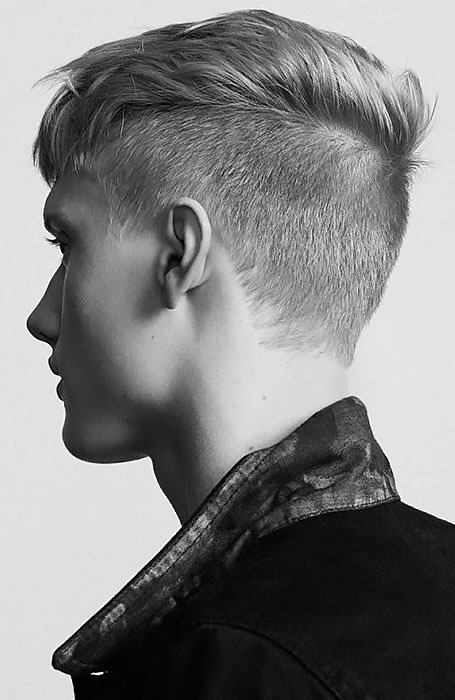 Waves with Short Sides
Opting for short sides creates a look that appears clean and neat while leaving locks longer and wavy on top adds a relaxed and carefree vibe.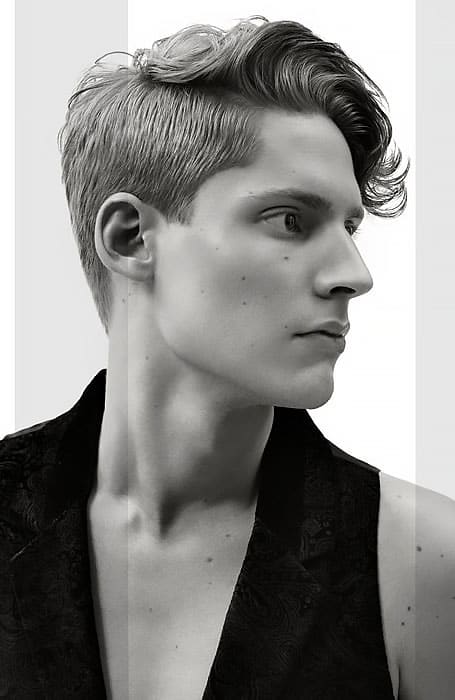 Wavy Ivy League Cut
A long and wavy Ivy League haircut is perfect for polished gents who like their short strands to look modern and fresh.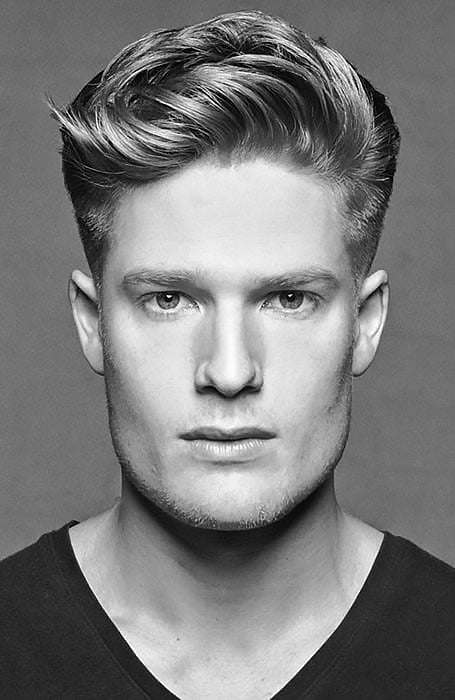 What is the most popular male hairstyle?
Most Popular Current Men's Hairstyles
A good looking hairstyle can change everything, but trying to keep up with the latest men's hair trends can be exhausting – right? Here's lots of help to navigate the most popular hairstyles with styling tips and helpful products. .
Modern Side Part
The classic side part is becoming extremely popular. Get yourself a nice jar of Suavecito pomadeand a comb to ensure your style stays in place all day long. This hairstyle features a slight pomp, but you can experiment with a shorter men's hairstyle, too.
Taper Fade
A great looking taper with a mid fade has become one of the most popular men's haircuts of 2019. While it does require a bit of styling, this cut looks good on nearly all face shapes and hair types. However, if you have thin hair, you'll want to keep the top a bit longer to keep your strands from looking stringy. If you have thick hair, on the other hand, you can achieve tons of volume with your taper fade by applying some styling product to damp hair and blow-drying with a round brush.
Medium Length
If you love a more professional look, a medium-length hairstyle with a side part is a great look. If you have naturally thick hair, this cut will require minimal styling. But, if you've got thinning locks, you'll need to apply a thickening hair product and style with a blow-dryer to achieve the desired volume.
Short Sides Long Top
Most men go for some variation of the short sides long top haircut. It's easy to style and can be customized to work for all face shapes and hair types. For instance, if you've got a round face shape, you'll want to go super short on the sides – like a skin fade or a high fade – and go longer on top. Style the top to achieve lots of volume. Each of these steps will make your face appear longer. However, if you've got a long face already, you may want to try slicking the top back.
Caesar Haircut
The Caesar haircut is one of the most popular classic short haircuts for men that can look good on just about any guy with the right head shape! You can use your favorite products to style a Caesar haircut, whether it's a matte hair clay or a pomade with a bit of shine. To get the purposefully-messy, tousled look, try a texturizing dry shampoo on the top layers of your hair and comb through with your fingers.
Slicked Back
Another slightly longer hairstyle is the slick back. To achieve this David Beckham haircut, get yourself a nice pomade and grow your hair out. However, you'll want to make sure to get the sides cleaned up before attempting this style. We recommend straying away from the slicked-back look if you have thin hair or a receding hairline as it will only draw in more attention.
Messy Matte
This men's haircut is another variation of the short sides long top haircut. It is styled with a firm-hold hair product to keep strands in place and provide a matte finish. On days you aren't feeling like sporting the tousled look, you can always use a pomade with more shine to slick it back.
Volume
Zayn Malik is known for the adventurous choices he makes with his hair, from rocking buzz cutsto dying his hair gray. This popular men's haircut, however, is our favorite look on him. It's long and volumized on the top (with the help of a blowdryer, round brush, and volumizing pomade. It's finished off with a light men's hairspray to keep strands in place.
Matte Side Part
A side part doesn't always have to be so shiny and slick. This year, guys are still loving the hard part, but it's all about the maintenance. With a haircut this pristine, you have to visit a barbershop at least once every other week or it will start to look unkept. Try a matte product like Pacinos for this side part look.
Platinum/Silver Hair

The silver fox look is no longer just a hairstyle for older men – it's a fashion trend. While going platinum, silver, or gray may feel like a giant risk, it's one worth taking considering the number of celebrities who have made it work this year (think: Adam Levine, Justin Bieber, and now Zac Efron).
Disconnected Taper
Pairing a disconnected taper with a longer men's hairstyle like a pompadour provides a clean, trendy look. Not sure what kind of beard would go with this haircut? Check out our guide on Choosing the Perfect Hairstyle and Beard Combinations.