Kombucha: How to add flavor to homemade kombucha tea
Freshly poured kombucha tea from a dispenser with a SCOBY is fizzy. It loses its carbonation once bottled, especially in a fridge. Would you like your kombucha more fizzy?
See Also: How To Make Kombucha Tea
How to Make Kombucha Fizzy
Isn't "she" a beauty?! You can create all these bubbles all by yourself.
Now let's get to flavoring kombucha combinations and ideas.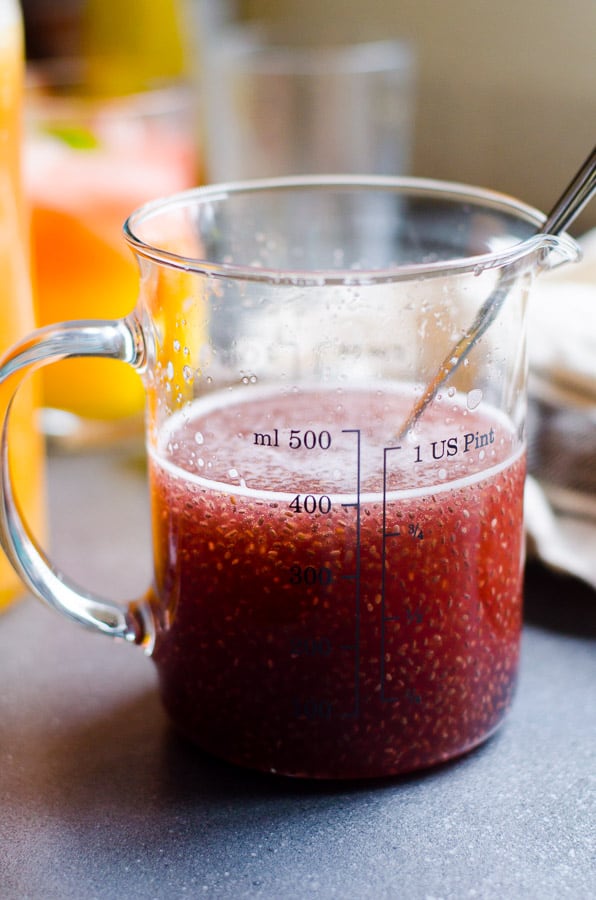 To see some of the ways that adding kombucha tea to your daily routine read: What are the Benefits of Drinking Kombucha Tea
When it comes to kombucha flavors, it is a matter of personal preference, your geographical location and endless-endless combinations. Here are some that I have tried and we loved. Just to clarify – you add fruit (flavor) right after bottling to make kombucha fizzy – that is what makes kombucha fizzy.
Ginger Kombucha: Peel and slice a few inches of fresh ginger and add to a bottle. Believe it or not, you do not need to add fruit to make ginger kombucha fizzy – ginger is enough. I usually buy organic fresh ginger, peel, cut into chunks and freeze in a sandwich bag. This way pricey ginger not from China doesn't go bad and I always have it on hand.

Mango Kombucha: Puree 1/2 cup fresh or frozen mango (see which one I buy on my Costco shopping list) along with some kombucha in a blender and pour back into the bottle.
Pineapple Kombucha (A Kids' Favourite): Puree 1/2 cup fresh or frozen pineapple along with some kombucha in a blender and pour back into the bottle.
Raspberry Kombucha (A Kids' Favourite): Drop 1/3 cup of frozen or fresh raspberries into the bottle. To serve, add a few slices of lime and you are in heaven.
Orange (Mandarin) Kombucha: Add small pieces of peel and a few chopped segments (all of mandarin) to the bottle.
Rhubarb Kombucha: Dice 1/3 cup fresh or frozen rhubarb and add to the bottle.
Cherry Chia Kombucha: This one is the bomb dot com. In a jug, combine 4 cups kombucha tea, 1/3 cup fresh or frozen cherries and 3 tbsp chia seeds. Stir with a long wooden spoon every 15 minutes a few times. Cover and let sit on a counter for 5-6 hours. I haven't tried making it in a bottle for the fear of never being able to wash it properly and kombucha still turned out fizzy. Just stir before serving.

Lime Kombucha: Squeeze a few generous size lime slices into a glass with black tea kombucha and ice. This simple combo will blow your mind on a hot summer day, forget iced tea!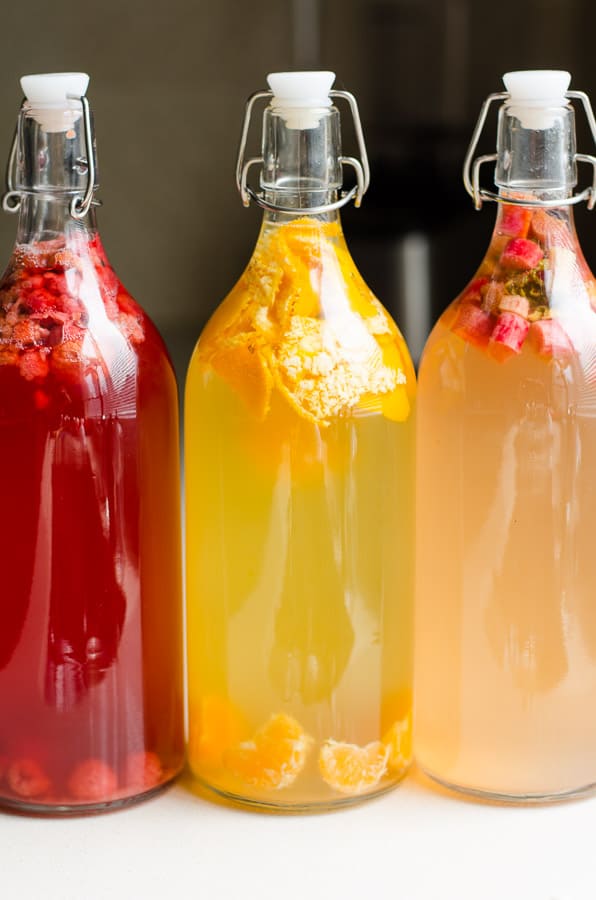 You might like: What are the Benefits of Drinkning Kombucha Tea
Tips on Flavoring and Making Kombucha Fizzy
Length of fermentation will depend on the temperature in your kitchen (usually time of the year). Burp bottles and taste kombucha every day. On hot days, fermentation takes 1 day, in cooler weather – 2 days. As soon as you like the taste, place kombucha in the fridge, otherwise fruit will keep fermenting kombucha further and make it sour.
Adjust taste with more fruit or plain kombucha, play it by ear and don't be scared to experiment. If you are a home cook, you can flavour kombucha.
To wash the bottles, fill them up with warm water right away and wash as following when ready – add a bit of baking soda, a bit of hot water and shake-shake-shake. That's it.
I have tried making kombucha fizzy with juice and raisins, and very minimal fizz has developed.
You can serve kombucha with ice and garnishes of your choice.
You can add vodka!:)
But still you will find it mind blowing that even kids will love to drink fizzy kombucha and call it healthy pop (it does taste like one). Plain kombucha will not be too inviting to kids so flavoring kombucha is the only way to make your kid drink load of probiotics.
Why are probiotics so good for us?
In short, probiotics are good bacteria essential to our gut's health. And I'm sure you have heard it many times – health starts in our gut. Overall to be healthy, we need to keep immune system strong and probiotics are a huge part of it. I think it is pretty easy to understand.
Can I use plastic or metal container for making kombucha?
No, it has to be glass. However if you buy a glass dispenser container like mine, the spout is made out of plastic. That's OK.
Any caffeinated tea works: white, black or green tea. Flavoured or not.
No.
What is ideal room temperature for brewing kombucha?
About 68 – 70 F or 20-21 C for bacteria to grow and kombucha ferment. Warmer temperature means faster fermentation.
What is that thin white film on top of my SCOBY?
That is a new SCOBY growing – "a baby".
Always leave the top (newer) SCOBY to keep brewing kombucha. Peel off the older one and you have 2 options.
Option #1: Give it to friends or start another kombucha batch.
Option #2: Compost it. It sucks, it's a waste but at least it gets composted.
Yes, SCOBY is easy to cut with a pair of clean kitchen scissors. In fact, you always should keep only one SCOBY in your kombucha brewing batch because too many and your kombucha will be sour. Think of it as a bigger hungry "baby" that will eat sugar faster. However, you should also keep in mind that for best carbonation results the shape of a SCOBY should be the shape of the jar creating a tight seal.
Yes, technically. I have seen "candy" recipes and have heard some folks feeding SCOBY to their dog.
SCOBY will take the shape of the mouth of the jar and then grow in thickness, and produce "babies" on top.
Should I wash SCOBY and the jug?
No and yes. I don't rinse SCOBY but if you want to – go for it. Every few batches I wash the jug with biodegradable dish soap (check out the non-toxic cleaners I use). I have read that you should wash jar with vinegar but because I don't use conventional harsh dish soap, I am not too scared of the chemicals making my SCOBY "sick".
I keep mine on a counter, away from direct sunlight.
How can I increase carbonation without second fermentation?
To maintain a bit of a fizz, store kombucha at room temperature (not refrigerated) in an airtight bottle. Carbonation won't be as strong but still some is better than none.
How long does kombucha last?
Kombucha doesn't go bad. It just becomes more sour. Refrigeration slows down that process.
Can I take a break from brewing kombucha?
Yes. When we went on vacation to Mexico for a month, I placed the jug with SCOBY and about few cups of kombucha in the fridge for 4 weeks. This way the fermentation process slows down. If I want to take a break for a shorter period of time while at home, let's say 7-10 days, I just let the jar sit on a counter in the same way.
Kombucha will lighten in colour and develop fermented smell. You will also see small bubbles forming.
You let it ferment too long. Happens to the best for us. I usually make a few cups of strong sweet tea, let cool and add to the jug with kombucha. Let sit for another 1-2 days, taste and bottle. Do not add sugar directly to the jug with kombucha as it will not dissolve or help with the acidity.
I honestly never had this issue. Neither any reader reported it. So it is very rare. But if it happens, you have to discard entire batch of kombucha and start over again.
Once I poured freshly brewed tea my SCOBY sunk to the bottom or is hanging sideways. Is that OK?
Yes, it will float to the top after a few days of fermentation.
Sources: https://ifoodreal.com/flavoring-kombucha-how-to-make-kombucha-fizzy/
image credit: ifoodreal.com