Wedding Dresses: How much is the average wedding dress?
The average cost of a wedding dress in the U.S. is around $1,100, but experts say fiscally-savvy brides can save 50% or more on their gowns if they know where to look.
Brides on a budget can still get the dress of their dreams without breaking the bank if they do a little grunt work and planning.
When should you start shopping for a wedding dress?
"Plan in advance," says wedding expert Linda DiProperzio. "The sooner you start looking for a dress, the more time you'll have to bargain shop. You'll have the time to search for sample sales, trunk shows and other bargains in your area."
Ideally, brides should begin shopping 10 months prior to their wedding date, and place their gown orders no later than 6-7 months prior to their wedding date—and some would say 6 months is even cutting it close. Bridal gowns are made-to-order, meaning that their creation process does not begin until your measurements are taken, fabric is ordered and your deposit is paid via your local salon. Lead times shorter than 6 months are typically considered rush orders, and you may incur extra fees to receive your gown in time.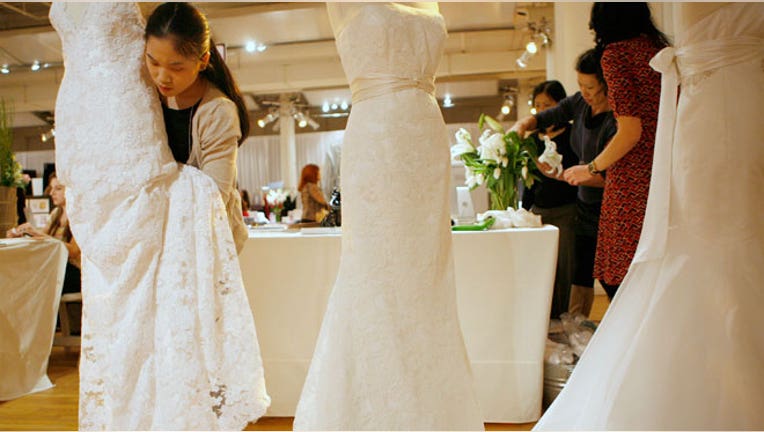 To get your dream dress without breaking the bank:
Buy used
Frequent sample sales
Rent a dress
Buy last year's style

Rewind just a decade, and most brides would balk at the idea of buying a used gown. But the downturn in the economy has ushered in an era of "chic frugality" which has eliminated the stigma of purchasing used.

Which Costs More: Being Single or Married?

"After the economy crashed girls realized they could get their dream dress that was worn for maybe five hours," says Josie Daga founder of PreOwnedWeddingDresses.com. "Brides are realizing how smart it is."

Websites like HustleYourBustle.com and PreOwnedWeddngDresses.com allow brides to sell their used dresses and enable soon-to-be brides to get a deal on a gown. According to Daga, brides can save 50% on used gowns on her site as well as buy sample dresses for 25-35% off. "We've seen dresses go for up to 90% off. There's a lot of money to be saved."

Brides who paid full price for their gown can save money by selling it after their big day.  Although there is a lot of nostalgia associated with preserving a dress in hopes of future generations walking down the aisle in it, selling it guarantees it won't sit unopened in a box. "We hear from bride after bride that the dress is too beautiful to sit in a closet. They want someone to love it," says Daga.

Budget Saver No.2: Frequent Sample Sales

Brides that want to see a dress in person before buying it should check out sample sales to snag their dress at a discount.

Wedding retailers and designers hold sample sales discounting their dresses to make room for new inventory once or twice a year and are prime grounds for finding a big-named label on the cheap.

There are websites dedicated to listing trunk shows and sample sales across the country to help brides plan accordingly. According to Kim Forrest, editor of Weddingwire.com, dresses at sample sales are typically sizes 10 or 12, which is size 6  or 8 in regular clothes. Trunk shows, where a store features a particular designer's collection, can also include discounts, says Forrest.

Whether you are at a sample sale or in a store, Forrest recommends avoiding gowns with lots of beading and embellishments because they tend to be more costly. "Instead, buy a relatively simple and unadorned gown and add a beaded sash or brooch to amp up the glam factor," she says.

Budget Saver No.3: Rent a Dress

The groom and groomsmen typically rent their tuxedos for the big day so it's not a stretch for the bride to do the same.

More websites are popping up that allow brides to rent their dress for the big day. "It sounds weird, but if you're really short on cash, you can rent a designer gown for the big day," says DiProperzio.

You cannot rent a wedding dress at David's Bridal. David's Bridal doesn't rent bridesmaid dresses either. Places you might want to consider for dress rentals include Borrowing Magnolia, PreOwnedWeddingDresses.com, and Rent the Runway.

Does David's Bridal Rent Dresses?

No, David's Bridal does not rent wedding dresses or bridesmaid dresses, David's Bridal's corporate customer service representatives said. That said, some wedding dresses at David's Bridal start at $49.98, so purchasing a dress from David's Bridal may be even cheaper than renting one elsewhere. Bridesmaid dresses at David's Bridal start at $19.99.

David's Bridal is the largest bridal store chain the U.S. with more than 300 store locations in 45 states. To schedule an appointment at David's Bridal for brides and/or bridesmaids, find a location and appointment time online.

Budget Saver No.4: Buy Last Year's Style

Wedding dress style do fluctuate from year to year, but the basics tend to stay the same: long and white

.

According to DiProperzio, buying from last season can save you up to 30%. "Unless you have a guest that is in the bridal gown industry, no one is going to know if you're dress is this season or last," she says.

How Much are Reem Acra Bridal Dresses?

Reem Acra

Reem Acra's bridal gown collection evokes a regal, ethereal quality unlike any other. The designer has an innate understanding of what looks and feels beautiful, making her gowns sought after by a wide variety of women. Reem Acra has mastered the ability to create gowns that are both fashion forward and timeless using a diverse collection of laces, silks, tulles, beading and embroideries.

Reem Acra gowns are priced between $4,000 and $10,000.